Dress Form Hanging Tags - DT for Faith Pocock Craft Studio...
ScrapFX | Sunday, 17 January 2021
---
Welcome to my latest Design Team Project for Faith Pocock Craft Studio - Dress Form Hanging Tag Project.
As design team members, we each receive a couple of laser cut MDF kits from Faith each month. Some we pick for ourselves, some we pick from a selection that Faith has picked for us. Regardless of who picks them, I've tried to make sure that I end up with one project that is a little more complicated and one that is a little easier so I can spend time on them as appropriate. This was supposed to be the simple project this month... looks can be deceiving!
When I picked this kit, I instantly knew that I was going to paint this like a rainbow. Each dress would be a different bright colour. I didn't know if I would have a second theme or not at this stage, though I eventually settled on making this project about my "One Little Word" for 2021 "DETERMINATION".
I've been picking my word for nine years, though if I'm being honest, I've picked a word for the year, then promptly forgotten about it for the rest of the year. Well not completely forgotten, but near enough to completely. This year, after the schemozzle that was 2020, I thought I would make an effort to focus a little more, well try to anyway. By creating this project around my "One Little Word" I figure I would have a constant reminder just sitting there in front of me to help. Well that's the intention, so I guess time will tell.
So on to the creating...
I usually start my projects with gesso as it's an awesome base for just about any technique that you want to try on top of it, but this time I decided to base the project with decoupaged book pages. As I wanted the colours to really stand out, I used book pages from a relatively new (secondhand) book and not one with the pages that have yellowed with time. I selected pages from a dictionary with a couple of pages from just about every letter of the alphabet, all selected at random. I tore off the white edges then tore up the pages into small random shapes. Then I put all the bits into a container, so I wouldn't end up with them spread from one side of my work surface to the other. (Yes, I speak from experience!)
I adhered the book page pieces in place using my own (not so) secret, special collage mixture. The recipe is 2/3 PVA glue mixed with 1/3 water. I store mine in a recycled matte medium container with a screw on lid and just give it a good shake before I use it each time. I top it up as needed, but it has basically lasted since I first created it years ago.
I apply a thin layer of my collage mixture onto the surface of the project in patches, then layer pieces of the book pages in random directions, applying a second layer of collage paste on top of the paper once it's in place. In general, I don't worry about what words are where or what direction they face, though if I pick up a piece of paper that has words that have a special meaning for my creating, I may make a more considered placement of this piece, so that the particular word does stand out a little more, even if I'm the only one who knows that it is there. Overall this creates a fantastic surface for most mixed media techniques that I might want to apply afterwards.
As each side dried, I trimmed the excess book pages off with scissors as close to the edges of the MDF wood as possible, before repeating the decoupage process on the second side of the piece.
I made sure to leave the tag hooks, the cross brace, dress form stands and the project base blank at this stage. I had decided I wanted these areas to stand out as different from the dresses and dress forms, but it also meant that I didn't need to worry about extra dimension when putting the kit together. The stain would not add any extra dimension like paint or matte medium would do.
Once the decoupaged paper had dried on both sides and I had trimmed the excess paper off each piece, I then coloured the areas I had left blank with Tim Holtz Distress Stain in Black Soot. I had to do a couple of layers of this to get a deep, intense stain that didn't show any streaks. I really love the impact of the black stain compared to the white pages.
The stain dried pretty quickly, so once I was happy with how it looked, I sanded the edges of each piece so remove any excess book pages before applying Ranger transparent texture paste matte through a stencil onto each dress tag. I then set them aside to allow the texture paste to dry overnight. I used a different stencil for each dress and varied where I focussed the stencil to add more interest to the project... part of my same but different vision.
While the texture paste dried, I set about sorting out the products I would use to colour each of the dress tags. I pulled out a selection of mists from my stash and sorted them into the six colours I was using for one of each of the tags – Red, Orange, Yellow, Green, Blue and Violet / Purple – ROY G. BIV, for those playing at home, except no Indigo because depending upon what school of thought you follow, it's not really a colour anyway.
Once I had the mists sorted out, I then found a corresponding liquid ink for each tag. After that it was a case of spraying, dripping and drying until I was happy with the final look.
If I had done all the dresses the same colour, they still would've all turned out different as we all know it is simply not possible to spray two items the same no matter how hard we try. But add in having to change colours as well and this step took on a life all of its own. Note to self… next time I come up with an idea like this… just say NO!!
(For a change...) I was a very good crafter who then immediately put away all the mists and inks I had dragged out, so that they were not cluttering my crafting space as I continued on with my creating… only to then have to go through all of this again when it came time to colour the flowers I would use to decorate each tag. A wise crafter would have coloured each set of flowers immediately after colouring the tag while they already had all the mists and inks out on their desk. Obviously, I was not this wise crafter.
Once I had coloured all of the dress tags, I set about sorting out all the possible items I might like to decorate the tags with. I pulled out my old paper and fabric scrapbooking flowers… you know all the flat flowers we collected to put on scrapbook pages because they didn't add too much dimension to the page? Yeah, those ones, the ones we haven't looked at in at least one or two, okay, four or five years since we last made a scrapbook page.
I also sorted some dimensional flowers, all white, that needed to be coloured to match the dress tags (with the mists and ink I've already put away… !!!!!!!). I found matching gemstones and pearls as well as some off-white resin self-adhesive flowers… which would also need to be coloured… you see how this project keeps on growing just when I think I'm on top of it.
So, at this stage I started colouring all the decorations… first the resin flowers.
I trimmed the strips of flowers down to two rows of four for each colour… that seemed a suitable number, without being too many. I sorted my alcohol inks out so I would have at least three shades for each colour, then used a mix of sprinkling alcohol ink directly on and dabbing on just a little to get various combinations and shades of each of the colour schemes I was using. The great thing about alcohol ink is that is dries almost instantly so very little waiting time to see the finished result! Hurray for all the impatient crafters out there!
It was around about now, that I started cursing my cleaning efficiency at having put away all my various mist bottles. More than once I muttered about having to once again sort out the colours of mists. More than once I wondered about all the extra bottles I found the second time, that I hadn't found the first time I looked for them… where had they been hiding the first time I looked?? I ended up with considerably more bottles the second time around… HOW? WHERE?
I decided I would be smart about it and sorted out way more flowers than I would need to decorate the dress tags, but by then I had made up my mind that I would much rather have extras, than have to dig through my mist bottles a third time. (Yes, it was around this stage that I was regretting my bloody rainbow idea…)
So, I set bunches of white 3D flowers in my misting box. Sprayed all sorts of shades of each colour over the flowers and then dried (as much I could patiently do at the time) the flowers before setting them aside with the scrapbooking flowers I had sorted out… but didn't really end up using!!)
Once everything was coloured and dried and bundled up together, I then had a brief moment of panic in which I was concerned about the sheer amount of colour I had on my table with nary a blank space to break it up. Luckily this moment of panic was brief, as I remembered some leftover white feathers I had, that had been moulded using some silicone moulds I have. After checking all the feathers I have; I sorted enough of the same style and size for two feathers for each dress. At last, I was ready to decorate.
When I sat down to decorate, I selected each dress tag along with the corresponding decorative pieces. It then became a matter of trial and error until I found the placement that I liked for each piece. Once I was happy with where everything would go, I adhered each piece in place using 3D Matte Gel. All the 3D flowers had wire stems, so prior to adhering them I either curled the wire around a skewer and then pulled the coils out for an open spiral vine or for the shorter wires, I curled them into a tight coil around itself to give the effect of a flat spiral leaf. I intentionally made sure that the placement of the floral collage for each dress tag was different and based loosely around the texture paste patterns I had added early on in the process.
Once I had decorated all the dress tags, I hung them on the hanger over night to allow the matte gel to dry completely.
While everything dried well, I contemplated the second side of each dress tag. This was where the "One Little Word" theme would come in. When I thought about what DETERMINATION meant to me, I came up with a couple of different meanings. After trolling several online dictionaries, it soon became clear that there were considerably more meanings. In the end I identified six definitions that were meaningful to me. I didn't include several very specific definitions, that related to law, biology and logistics.
I typed the definitions into a word document placing each of them in individual boxes. I added some titles as well as six quotes about DETERMINATION by women, for women. I then printed this all out onto heavy weight white card before fussy cutting everything out. When I tried various placement options for the definitions and quotes, I picked the one I liked the best, before trimming the definitions a little tighter so they would fit onto the top of the dress.
As the back of the tags were looking very plain compared to the fronts, but I didn't want to do anything that might affect the work I had done, I decided to do a simple border around the edge of each dress tag using gelatos in corresponding colours.
After selecting the colours I wanted to use – a minimum of three shades per colour – I lightly coloured around the edge of each dress tag before blending the gelatos with my fingertips. I blended the colours together as well as lightening the gelatos the closer into the centre for an ombre look. I was generally able to blend the gelatos with just my finger however where needed I added a little water to assist with the blending.
Once I was happy with all the blending, I adhered the definitions and quotes in place on the back of each tag before hanging them in position. The final step was to adhere the titles to the outside of each of the dress forms that are the stands for the hangers.
Below are some photos of the finished pieces, including some close-ups of the flower collages, definitions and quotes, so they are easier to see. I've also listed a rather long list of products that I used and the colours or shades of each product.
If you would like to see the construction process, allbeit sped up, I will be posting a video on my YouTube channel and will include a link to the video once it has been published. If you have any questions, or would like to see any of my techniques or processes in more detail or slowed down, then plese just leave me a comment or flick me an email and I will do what I can to answer any questions or requests.
Now for the good bits...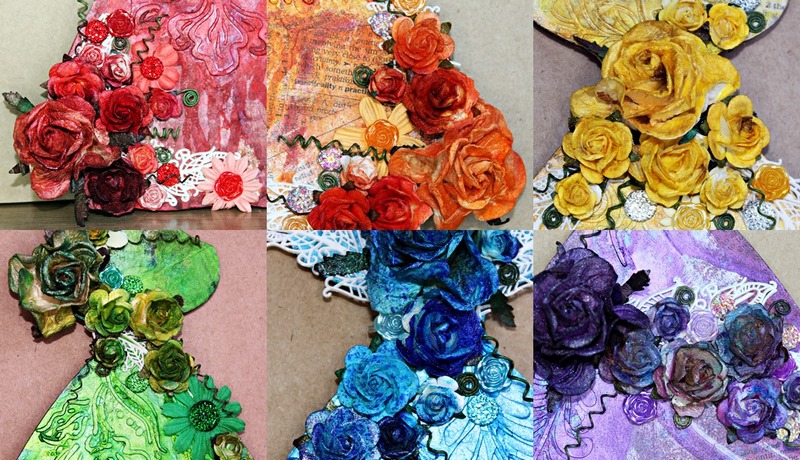 Materials Used:
Dictionary Pages
Collage Paste (PVA/Water Mix)
Distress Stain - Black Soot
Sanding Block / Emory
Dina Wakley Media – White Gesso
Ranger Texture Paste – Transparent Matte
Stencils – 2 x Floral Swirls from Faith Pocock Craft Studio; TCW268 Mini Peacock Feathers; TCW389 Mini Fancy Feathers; TCW465 Mini Solid Butterflies; Unknown freebie with a magazine
Daler Rowney FW Acrylic Artists Ink – 454 Velvet Violet, 517 Flame Red, 687 Flame Orange
Daler Rowney FW Pearlescent Liquid Acrylic – 113 Hot Cool Yellow, 115 Macaw Green, 130 Sky Blue
Lindy's Gang Sprays:
Flat Fabios: Tears on My Pillow Tangerine, Rizzo's Rowdy Red, Greased Lightnin' Green, Danny Zuko's Denim, Bonjour Butter
Starburst: A Bit o' Bubbly, Glory of the Seas Gold, Yellow Rose of Texas, Red Hot Poker Orange, Canna Lily Burnt Orange, Fuzzy Navel Peach, Hag's Wart Orange, Cape Cod Coral, Cocklebells Coral, Peony Scarlet Red, Rusty Lantern Lime, Sea Mint Green, Bells of Ireland Green, Freaky Franken Lime, Ponderosa Pines Olive, Lucky Shamrock Green, My Mojito Green, Hydrangea Blue, Azure Sea Asters, Bachelor Button Blue, Blue Hawaiian Blue, Tiffany's Blue, Whale Watch Blue, Sweet Violet Purple Teal, Witch's Potion Purple, Autumn Maple Crimson, Screamin' Banshee Black, Ramblin' Rose Pink, Sea Grass Green
Moon Shadow Mist: Violaceous Violet, Moonlit Mulberry, Phantom Fuschia, Gossamer Gold, Crow's Nest Copper, Jolly Roger Red, Burnt Umber, Ethereal Emerald, Buccaneer Bay Blue
Glitz Spritz: Cactus Gold, Blazing Sun, Brushed Nickel, Steel Shimmer
Dylusions Mists: Lemon Zest, Pure Sunshine, Squeezed Orange, Tangerine Dream, Postbox Red, Cherry Pie, London Blue, After Midnight, Crushed Grape, Crushed Grape with Mica Spray
Tim Holtz Adirondack Alcohol Ink – Lemonade, Butterscotch, Sandal, Sunshine Yellow, Peach Bellini, Sunset Orange, Poppyfield, Red Pepper, Cranberry, Clover, Citrus, Meadow, Pool, Sail Boat Blue, Stream, Currant, Purple Twilight, Raspberry
Self-Adhesive Resin Flowers
Prima Marketing – Art Basics 3D Transparent Matte Gel
Rosie's Jolly Gems
Prima Marketing – Say It In Crystals – Sweetheart
Cardstock
Faber Castell Gelatos – Lemon, Butter Cream, Banana, Tangerine, Mango, Clementine, Blood Orange, Red Cherry, Iced Current, Kiwi, Lime, Spearmint, Green Tea, Snow Cone, Cotton Candy, Boysenberry, Blueberry, Elderberry, Metallic Grape, Grape, Black Cherry,
Write a comment
Your Name:
Your Comment:
Note:

HTML is not translated!
Enter the code in the box below